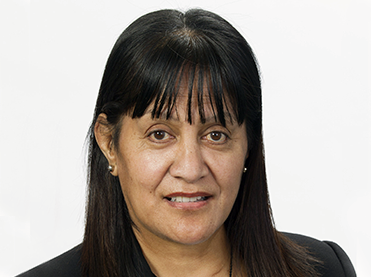 Karen Wilson is of Te Ākitai Waiohua, Ngāti Te Ata, Ngāti Pikiao and Ngāti Hau descent and is a representative of the Mana Whenua group - Waiohua - Tāmaki Alliance.
She has spent many years within the New Zealand Police as a senior manager and recently left policing to concentrate fully on the Te Ākitai Waiohua Treaty Negotiations in Tāmaki Makaurau.
Karen is the mandated Lead Negotiator for Te Ākitai Waiohua, Chair of the Te Ākitai Waiohua Iwi Authority, and the Pukaki Māori Marae Committee. She also holds Chair / Co Chair / Director roles on other community entities within Tāmaki.
Karen is a member of the Independent Maori Statutory Board and allocated to the following Auckland Council committees and groups:
Environment, Climate Change and Natural Heritage, Parks, Recreation and Sports, Civil Defence Emergency Management Group, Auckland Energy Resilience and Low Carbon Action Plan Steering Group, Auckland Domain Master Plan, Arts, Culture and Events, Regulatory and By Laws, Fukuoka Friendship Garden, Seniors Advisory Appointments Panel, Regional Strategy & Policy Corrections Facility at Wiri (Kohuora), Empowered Communities Political Advisory Group and the Hunua Project Political Advisory Group.